3 Ways La Crosse Area Homeowners Can Cut Their Utility Bills
Sep 30, 2016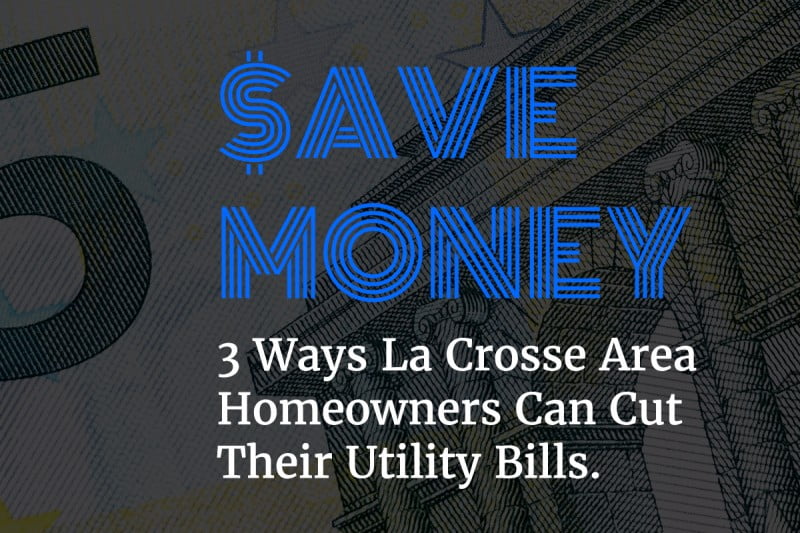 Wisconsin is a beautiful place to live for 12 months out of the year!
Spring through winter brings us various colors and of course very pleasant to very warm to very cold temps!
So, with winter on the way, here's 3 ways that can help you save money on your utility bills!
1. Insulation
Insulation is probably one of the most basic things we as homeowners in the Coulee Region can do to help reduce our energy costs! But, you'd be surprised at the amount of homes we go into, whether it's La Crosse, Onalaska, Holmen, West Salem or La Crescent, MN, and the lack of proper insulation we see.
We've even seen homes with no insulation in the walls!
As homeowners. we don't think of checking insulation each year to make sure it's still in good enough shape to keep our homes comfortable.
Let us help you with an energy assessment to see if you have proper insulation in your walls and attic! Getting your home properly insulated will definitely pay you back over time!
2. Replacement Windows
Let's be clear on this; windows are more than just some glass throughout your home.
They help to maintain a home's temperature, provide ventilation while also keeping out the elements. Having poor quality windows in your home can lead to many issues including:
drafts
outdoor air pollution
excessive noise
and allergens entering your home.
In fact, in many homes windows can account for up to 30% of a home's air leakage.
So you can see why having properly installed energy efficient windows are so important. If your furnace or air conditioner are running nonstop or you're feeling drafts while sitting in your favorite chair or you're just having trouble staying comfortable then give us a call we'd be happy to help.
3. Free Energy Assessment
Are you constantly turning up the thermostat? Schedule an energy assessment!
It's a great way for us to point out the areas in your home that are costing you more money on your energy bills.
An energy assessment can also help identify where you have some air leakage by performing a "blower door test" to see how air tight your home is and where the leaks are.
At Clear Choice Energy Solutions, many of our customers save enough money over a couple of years on utility bills to completely pay for the improvements they make. Then, the rest is just money in your pocket!
Stop paying the utility company, pay yourself! Give us a call and schedule an energy assessment today!